Troy, Michigan, USA April 1, 2012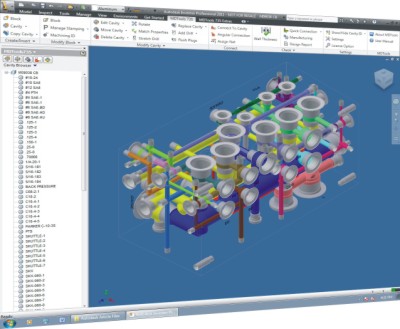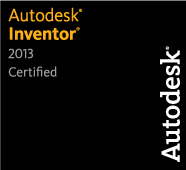 Autodesk, Autodesk Inventor, AutoCAD, and Inventor are registered trademarks
or trademarks of Autodesk, Inc., in the USA and/or other countries. All other
brand names, product names, or trademarks belong to their respective holders. MDTools, QuickManifolds, FluidPowerTools.com, HyDraw are registered
trademarks of VEST, Inc.
VEST, Inc. today announced that its flagship product MDTools® 745 has received Autodesk® Inventor® 2013 certification from Autodesk, a world leader in 2D and 3D design, engineering and entertainment software.
MDTools provides manifold layout automation, checking for connectivity and wall-thickness, and automated production of manufacturing drawings. It has an extensive library of cavities covering the full hydraulics industry.
"Autodesk Inventor provides powerful 3D visualization capability in a parametric environment, resulting in a dramatic elevation of the engineering and design capability of the Fluid Power industry," said Yudi Raina, President of VEST, Inc. and a long time industry insider. "Customers can make designs better, more energy efficient, more manufacturable, more compact, and safer with Inventor and MDTools. This enables business owners to save money, produce designs faster, and have confidence designs are correct."
"Manifold engineering is a demanding job, and 90 % of our customers use the latest technology from Autodesk to keep abreast of competition, and stay ahead of their customer expectations. VEST is committed to staying current with Autodesk Digital Prototyping technology, and is pleased to announce this Autodesk Inventor 2012 certification," added Anurag Agarwal, Director of Technology at VEST, Inc.
The Autodesk Inventor 2013 based MDTools has a powerful XML interface which allows intelligent data transfer into and out of Inventor from upstream and downstream processes.
XML interfaces also allow designs produced through the VEST QuickManifolds.com web service to flow into Inventor and be fully editable with MDTools. Tight integration of the Inventor solid model with upstream schematics created using HyDraw in Microsoft Visio, and with
downstream CNC machining, make MDTools inside Inventor a seamless design environment, which translates a circuit into a 3D design, and passes the design for automated G code generation.
The MDTools product for designing hydraulic manifolds has been serving Autodesk customers since its initial launch for AutoCAD software in 1998. In 2003, VEST's MDTools was migrated to the 3D environment of Autodesk Inventor mechanical design and engineering software. Autodesk Inventor software takes engineers beyond 3D to Digital Prototyping by enabling them to design, visualize, and simulate products before they are built.
The big three manufacturers of the fluid power industry – Bosch Rexroth, Parker Hannifin, and Eaton have all benefitted from the continuous improvements flowing out of the yearly upgrades to Autodesk Inventor and to MDTools.
About VEST, Inc.
VEST, Inc. is the leading provider of design-automation and sales-automation tools for Fluid Power Systems. Since 1997 it has delivered innovation to the industry by building knowledge-based engineering tools for schematics, 3-D manifold design and machining. Since 2008 it has been delivering web based engineering tools and services which link to Autodesk Inventor, and enable hyper-automation, and collaboration using the web. FluidPowerTools.com and QuickManifolds.com are VEST promoted sites and tools.
For information about VEST, Inc. please visit www.VESTusa.com, or call 1 (248) 649-9550 or email sales@VESTusa.com in the US, or call +49 (0) 6083 957 16-2 or email info@Taunus-It.de in Europe.